Posted by Zosi Team
As COVID-19 cases soar across the country again, we're reminded not only of the impacts pandemics can have on the healthcare system, but also on the food industry as a whole.
"At the very beginning of the pandemic, there was this sense that there would be short-term lockdowns and restrictions. People treated the pandemic much like they would a severe weather event – make a run to the grocery store, we'll be home for a few weeks then everything will go back to normal," says Dr. Jennifer van de Ligt, Director of the Food Protection and Defense Institute at the University of Minnesota. "That challenged the food industry. At the same time people were preparing to stay home, restaurants and other eat away from home venues closed. This meant that the amount of food people were consuming in those venues had to be available for home preparation. This may it difficult to resupply retail outlets with shelf staples at the rate they were being consumed. It wasn't a food shortage — it was a food distribution system disruption that placed a great deal of stress on supply chains as it shifted from a split of food service and retail supply to almost exclusively retail supply for a period of time."
Of course, the food industry adapted. Today, the ability to supply our retail sector has enormously improved. "Overall, the food industry as a whole has done an amazing job. They have been incredibly resilient in the face of the pandemic. They've learned. They've adapted. They've found new ways to manage ingredient shortages, distribution disruptions, and worker health and wellness." But the food supply chain's pandemic preparedness and its ability to prove resilient doesn't end there. Instead, it lies in an integrated approach to food safety, food security, and food defense.

Food Safety
The ties between a pandemic brought about by a foodborne illness and food safety are apparent, but the most difficult challenge facing the industry today is worker health. The well-being of the food industry's workforce is a central part of their food safety plan. Within it, procedures are implemented to ensure the production of safe food for consumption. While businesses have always considered how to keep workers from contaminating food, the pandemic has forced companies to take a closer look at worker health and craft different mitigation strategies to this end.
Food Security
Food security is the state of having reliable access to a sufficient quantity of safe, affordable, nutritious food. As the food supply chain becomes more agile in adapting to the pandemic, a return to normalcy around food security occurs. However, as of October 2020, AAMC reports that 54 million American consumers still face food insecurity1. In the face of this uncertainty, customers moved from purchasing perishables, like fruits and vegetables, to shelf-stable items. This negatively impacts sales of manufacturers and, perhaps most notably, the produce industry.
Food Defense
While food defense focuses on preventing acts of intentional adulteration that could cause widespread public health-harm, there are lessons from the pandemic that serve your food defense system well. Companies must reevaluate their food defense plan and vulnerability assessment practices to incorporate any operational practices that have changed during the pandemic. Food defense is a part of the entire food supply chain necessary to assuring safe, healthy food for all.
Successful Strategies for Operating in the COVID-19 Pandemic
Your companies particular experience during the pandemic and the changes you implement may differ from your peers. Still, there are a handful of successful strategies you can employ to promote sustainability. "The companies I've seen that are most successful are those that are open, listen to new ideas, take in the best science available, and create ways to work within this new structure of the pandemic," says Dr. van de Ligt. "They have prioritized the health of their workforce. They communicate well to their workers about what they're doing and how they're helping workers stay healthy."
"Another strategy for success is being willing to try new things, to think outside the box," she continues, "Saying, 'we used to do it this way' is likely not the best approach in an evolving pandemic. Successful businesses have shown that they're adaptive and resilient."
As for unsuccessful strategies? "Companies who believe they can hunker down and wait out the pandemic so they can return to normal might not be the best approach. The way the food industry looks post-pandemic conditions will not be the way it looked pre-pandemic. There have been too many changes in the way we operate and communicate with both our workforce and our consumers in both retail and foodservice locations."
Conclusion and Resources
The food industry will continue to evolve and see change. Food safety, food security, and food defense are integral parts of keeping our food supply chain healthy and operating. A comprehensive, holistic approach to all three, coupled with a willingness to change, can ensure your business's survival and success beyond the COVID-19 pandemic.
To learn more about creating, improving, and implementing food defense systems, consider Zosi's exclusive course library. Developed in partnership with the FPDI of the University of Minnesota, these courses offer flexible food defense training for frontline workers, managers, and supervisors.
1https://www.aamc.org/news-insights/54-million-people-america-face-food-insecurity-during-pandemic-it-could-have-dire-consequences-their
---
Subscribe to Insider Insights
---
Related Courses
Food Defense Supervisor Awareness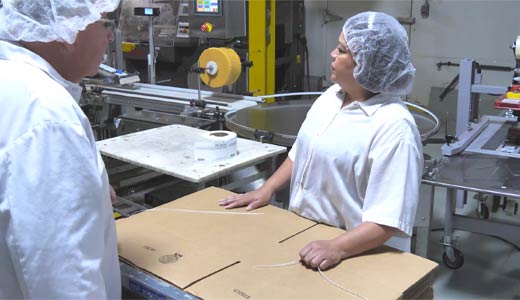 Food Defense in 15