Posted by Zosi Team
Whether you've weighed the benefits of product diversification and have already entered the kosher food industry or you're just getting your feet wet, you may find yourself curious about the steps to kosher certification. What can you expect from a formal inspection of your kosher program, and what can you do to prepare? This blog will help you better grasp the rabbi's visit, no matter where you are in your kosher production journey.
Who is the Rabbi Auditing Your Facility?
Rest assured, the rabbi visiting your facility has years of experience studying Jewish law, particularly Kosher laws, under his belt. Of course, his knowledge base doesn't end there. In addition to his familiarity with these rules, he has a working familiarity with food processing. After all, to properly audit and give your facility certification, the rabbi must be familiar with what you do, how you do it, and why you do it.
As you welcome the rabbi into your facility, cultural sensitivity is crucial. You may want to consider certain cultural sensitivity practices to make him more comfortable. To learn more about these precautions, consult Zosi's online kosher production training.

Who Interacts with the Rabbi?
When a rabbi visits your facility, he'll need to interface with multiple divisions of your team. Each is a vital proponent of your kosher food production and thus your compliance with kosher rules. These may include:
Research and Development (R&D)
Quality Assurance
Production
Marketing
Maintenance
And more!
He'll want to talk to R & D to ensure that any reformulations or new items keep kosher laws in mind as they progress through development. Next, the rabbi will consult with quality assurance. The QA team represents the interest of your consumer. As such, the rabbi enlists them to make sure they include the Kosher consumer's interests in all areas.
Of course, your production is paramount to the inspection. Beyond inspecting your production processes, he'll go through records, schedules, formulas, and more. He may request to speak with engineering to verify there's no cross-contamination of equipment or lines, and he'll consult receiving to ensure they abide by kosher rules. Your maintenance and cleaning staff will also need to meet kosher sanitation specs to receive kosher certification.
What Happens During the Kosher Inspection for Certification?
Again, inspections come in all shapes and sizes. However, there is an outline of the basics you can expect during your journey to kosher certification. In a typical facility, the visit lasts for about an hour. Sometimes this is shorter, sometimes longer. Most of the time, these visits are unannounced and happen on a regular schedule.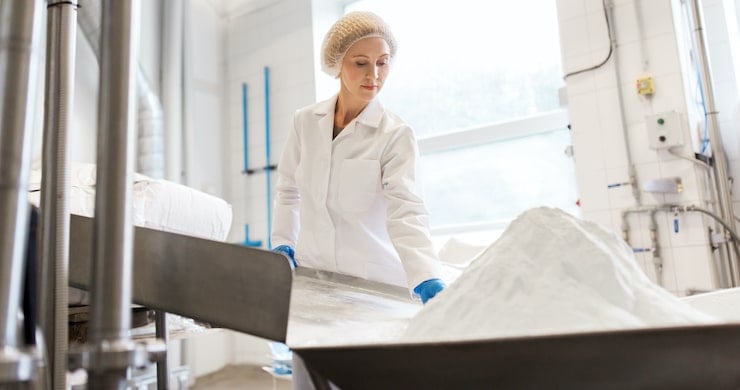 The rabbi will visit all of the departments listed above, being careful to check production records and schedule. He'll check storage areas and raw materials to make sure you have separated kosher products and ingredients from non-kosher ones.
Remember, the rabbi treats every audit as confidential. True, full, and accurate information is needed to inspect your kosher food production practice properly. As such, they understand they are guardians of proprietary and confidential information – perhaps that which acts as the basis of your entire business – and act accordingly.
Zosi Resources for Your Kosher Food Production and Certification
To further prepare for kosher food certification and ensure your kosher program includes all of the essential, consider Managing Kosher Production Online. This in-depth course leverages the Orthodox Union's Rabbi Avrohom Stone experience and knowledge to provide participants with a step-by-step walkthrough of kosher rules, concepts, and program components. Start learning today!
---
Subscribe to Insider Insights