Posted by Zosi Team on September 15, 2020
Tweet
Share
Share
If it's not written down, it didn't happen. Performing your due diligence is vital to your food safety audit process's success and, in turn, successful production or manufacturing.
Different methods exist for documenting inspection results and crafting an effective internal audit checklist. By exploring each, you'll understand how to approach and prepare the documentation that works best for your internal audit procedures.
Internal Audit Walkthroughs
The first method, and one we do not recommend, is simply doing a walkthrough of your facility and recording any observed nonconformities. This internal audit procedure doesn't prove to any third-party certification process that you had a structured plan of attack, objective, or scope associated with the inspection. Plant inspections are a critical part of the internal audit process. However, they need to have specific scope and documentation to be effective.
GFSI Checklists
If auditing against GFSI Schemes such as SQF, BRC, and FSSC 2200, we recommend using the GFSI standard checklist for your audit. Using a standardized document ensures your internal audit team goes through each regulatory requirement, without skipping areas of your facility or processes. Since these checklists are comprehensive, break them into sub-parts and complete a portion of the standard regularly, such as monthly or weekly. The internal audit schedule should ensure that all parts of the standard undergo an audit quarterly or annually, depending on the standard requirement.
Customized Internal Audit Checklists
The third internal audit documentation method is to use customized checklists for your plant inspections or specific processes. There are several benefits to this method, including:
Guides the audit – Your internal audit team will know exactly what to review
Ensures completion of all elements – Helps auditors address the entire scope of the audit
Reinforces objective and scope – Defines whether you're auditing a process, a product, or people
Acts as a record – provides the documentation third parties need to prove your internal audit's thorough completion
Setting up your customized audit checklist
Customized checklists are specific to individual facilities. However, there are general items every facility should utilize. These include the date, time started and finished, areas under audit, and a record of all the internal audit team members. For plant inspections, consider (at a minimum) including representatives from Operations, Quality Assurance, Sanitation and Maintenance.
Your checklist should go beyond general items (floors, walls, ceilings) and include an area-specific examination of equipment, processes, product handling, and people. So, you'll need space to document each area of inspection and their results. Leave room to record nonconformities and corrective actions. Identify a target date and person responsible for corrective actions that cannot see immediate completion. Always remember to follow up!
Consider what content needs to be included and the specific requirements for each as you move through departments. Identify the relevant written program requirements and food safety policies, objectives, process interactions, activities underway, staff competencies, and process-based auditing techniques.

Managing the Internal Audit Checklist
An audit checklist may be detailed or limited, depending on the experience level of your audit team. Less experienced individuals need more detailed checklists and vice versa. Update these checklists as needed or as changes occur in each area.
The internal audit results should be reviewed by the entire team and circulated to supervisors, department managers and senior leadership.
Risks of using the checklist approach
While using a customized checklist is recommended, the process is not without risks. Never let the checklist's details drive the internal audit process to a point where your team overlooks something crucial to your facility. Using the acronym STOP helps combat this risk.
Sometimes, the best course of action is to sit back and watch. This helps the audit team see, understand, and evaluate a department's operation, fully thinking through the processes happening around them.
Zosi Resources
Following these guidelines helps you achieve internal audit success and in turn receive high marks on your external audit. Learn more about internal audit best practices and gain expert insight into documentation procedures in our fully online courses Internal Auditing-Basics and Internal Auditing-Advanced.
---
Subscribe to Insider Insights
---
Related Courses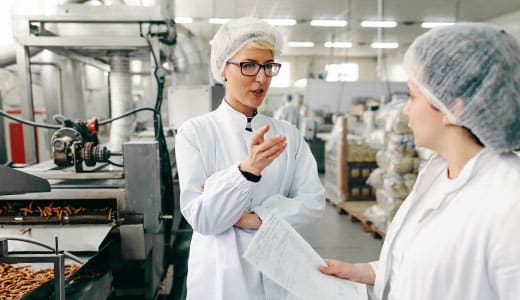 Course Bundle – Internal Auditing Basics & Advanced
Internal Auditing – Basics
Internal Auditing – Advanced