Posted by Zosi Team
As COVID-19 changes the way we interact and travel, hospitality management must adopt new solutions and re-assess their existing practices to combat infection transmission.
The average uncontrolled rate of infection is three people for every infected person. Yet even though this risk exists, infection control measures can help your team mitigate threats.
Of course, not all control measures are created equal. Hospitality management personnel must decide which control measures to put in practice. To do so, you need to understand their hierarchy of effectiveness. This blog will outline each, helping you accommodate new standards and keep people safe.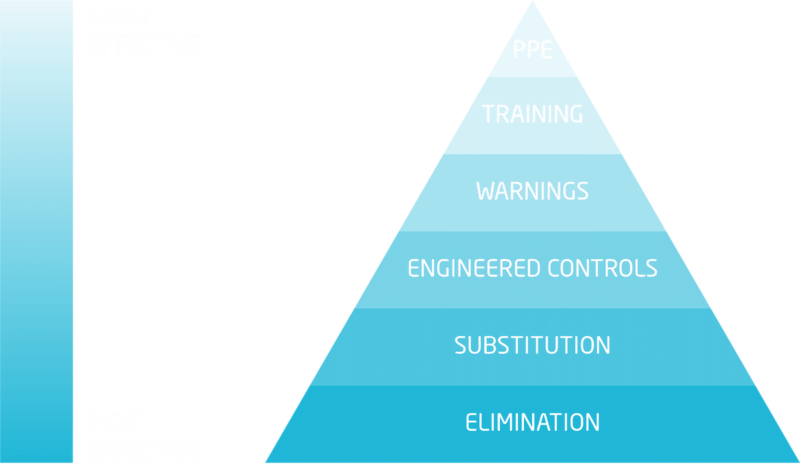 Elimination
The most effective means of control, elimination of a hazard enables us to remove the possibility of risk exposure altogether. Consider this your first point of defense. Examples of elimination, and therefore breaking the train of transmission, include removing a complimentary fruit basket from the front desk or the decorative pillows from guest beds.
Substitution
When elimination isn't an option, move to substitution. Substitution replaces a hazard. For example, hospitality management chooses to transition from a traditional door where guests need to touch a handle to installing an automated door requiring no physical contact. Here the hazard still exists, but a substitution makes it less likely to affect your guests.
Engineering controls
If a substitution is off the table, we have the option of engineering controls to mitigate risk. Engineering controls cast a wide net. Simple installations, operational changes, and significant infrastructure alterations are all examples of this type of hospitality solution.
Note that substantial alterations should only occur where the reduction of risk is proportional to the investment required.

Warnings
Next, warnings promote awareness on behalf of workers and guests. Signs, visuals, guidelines, etc. all serve as warnings in your facility.
Training
Proper hospitality training in the age of COVID-19 and beyond requires workers and their employers to act as a means of controlling hazards. For further insight into effectively training your hospitality industry team, consider our online course, Hospitality Management Principles for Preventing the Spread of Infection.
PPE
Personal protective equipment (PPE) is hospitality management's final solution and should be reserved for when all other hazard control options fail or are unavailable as options. Remember, PPE is not a hazard control and does nothing to eliminate hazards. While PPE is a crucial aspect of preventing the spread of infection, removing or managing a hazard's source always takes priority.
Conclusion
Knowing the right infection control measures to employ for your business is critical to sustained success. Beginning with elimination and ending with personal protective equipment, these hospitality health and safety procedures are an important cornerstone of your operation's larger POSI Response program. When employed correctly, each ensures your team doesn't waste valuable resources, like time and money, and the chain of transmission remains broken.
---
Subscribe to Insider Insights
---
Related Courses
Protek for Hospitality / Retail / Food Service