Posted by Zosi Team
The federal government estimates that there are 48 million cases of foodborne illnesses annually in the United States. Each year, these foodborne illnesses result in approximately 128,000 hospitalizations and 3,000 deaths.
Although most healthy people recover from foodborne illness in a fairly short amount of time, others develop chronic or even life-threatening health problems.
Several states require food service employees to become certified food handlers. This means hostesses, bar-backs, kitchen staff, bussers, and so on. In some states like Texas, all food establishments must have at least one employee with a Food Manager Certification. However, food safety best practices are universal – anyone, at home or in a food production facility, can and should use them.
Key Steps to Food Safety
To keep everyone safe from food poisoning, start with these four simple steps: Clean, Separate, Cook, and Chill. Many of these principles are applicable at home.
Clean
Cleanliness for food handlers goes beyond personal hygiene. In addition to washing your hands with warm water and soap for at least 20 seconds before and after handling food, using the restroom, eating, coughing, or sneezing. Food handlers should use gloves to avoid direct bare hand contact with ready-to-eat foods.
Food contact surfaces, such as dishes, utensils, food prep areas, and beverage equipment must be washed, rinsed, and sanitized after use. Frequently disinfect heavily trafficked surfaces (by either employees or customers), like doorknobs, equipment handles, check-out counters, and so on. Floors and counters should be cleaned using EPA-registered disinfectants.

Separate
Food handlers must understand the proper method to separate raw meats, poultry, seafood, and eggs from other foods in your facility. Those preparing food should use one cutting board for fresh produce and a separate one for raw meat, poultry, and seafood. Never place cooked food on a plate that previously held raw meat.
Cook
Color and texture are unreliable indicators of food safety. Using a food thermometer is the sole way to ensure the ingredients and food served are safe to eat. Cook this food to a safe minimum internal temperature to get rid of harmful bacteria.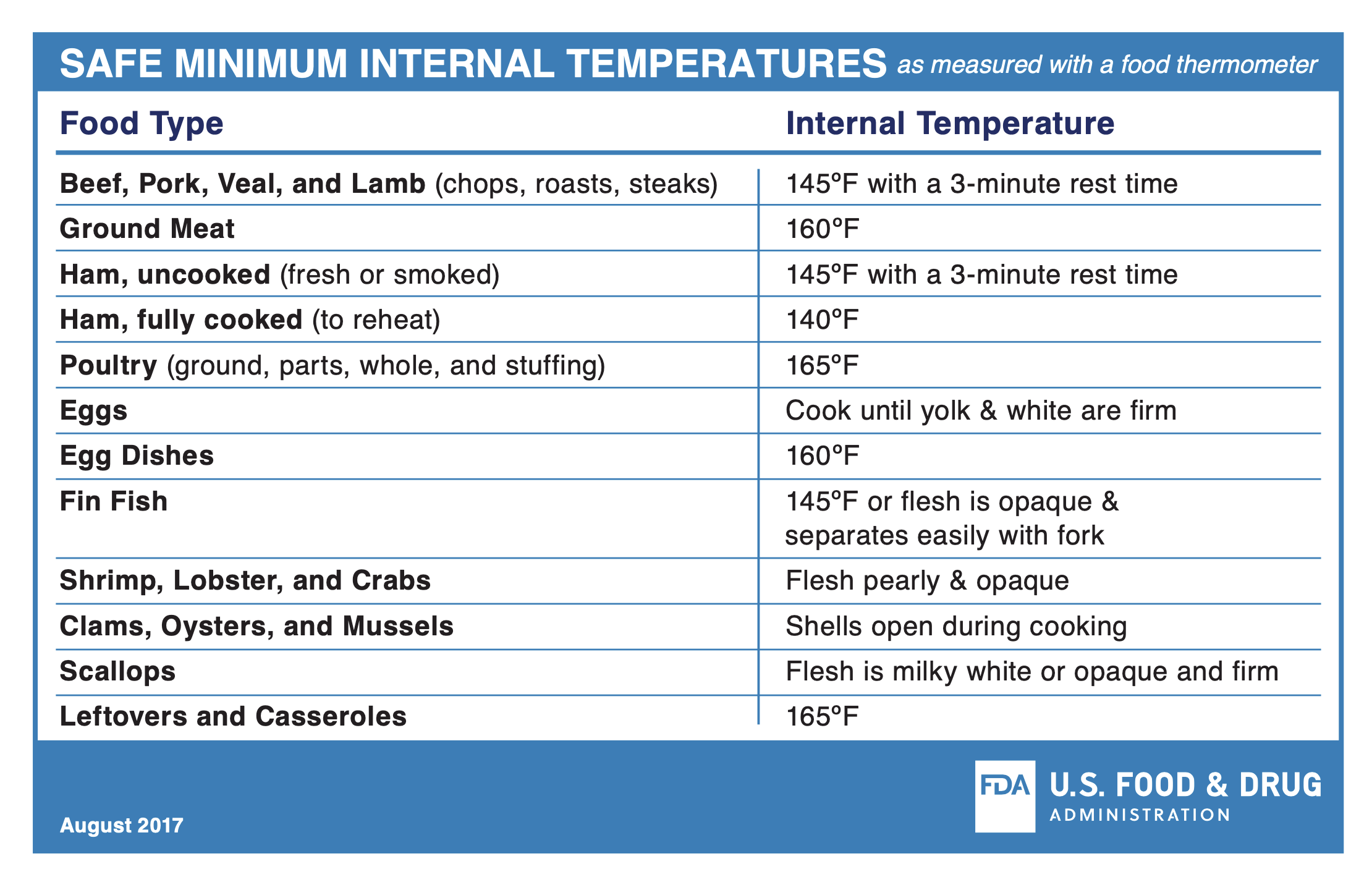 Chill
Food handlers must understand proper chilling methods. Keep the temperature of your refrigerators at 40 °F or below and freezers at 40 °F or below. Refrigerate meat, poultry, eggs, seafood, and other perishables within 2 hours of cooking or purchasing. Never thaw foods at room temperature. There are three safe ways to defrost food: in the refrigerator, in cold water, and the microwave.
Help Customers Maintain Good Infection Control
Beyond the basic food safety best practices, retail and restaurant food handlers must help their consumers prevent the spread of infection even as cities begin to re-open across the states. Finding ways to encourage social distancing in lines or check out is crucial (and in some states mandatory). The FDA also recommends discouraging customers from bringing pets (except for service animals) into stores or waiting areas.
Conclusion
Food handlers must understand key steps to food safety, such as proper personal hygiene, separation, cooking, and chilling of food. However, their duties do not stop there. Food handler certification qualifies individuals to identify behaviors that cause foodborne illness and practice the safety procedures described above to prevent food contamination.
---
Subscribe to Insider Insights