Zosi makes HACCP Alliance Certification easy! From basic to advanced online courses, we can help you build a strong HACCP plan that prevents food safety incidents and supports GFSI Compliance.
The Zosi HACCP Advantage
Practical, Expert Insight
Taught by certified auditors with decades of experience.
Real-World Perspective
Explore best practices that translate directly to the floor.
Roadmap to Compliance
Track progress and build your programs to comply with SQF and more.
Save Time and Money
Eliminate travel costs and minimize the hassle of classroom training.
What is HACCP?
HACCP is a globally recognized preventive management system used to address food safety risks throughout the food industry supply chain. HACCP stands for Hazard Analysis & Critical Control Points, outlining the first two steps in its own name. Hazards are the kinds of contamination (biological, physical, or chemical) that could happen to food in production. Critical Control Points are the steps in your process where you can use controls to prevent or at least reduce hazards.
A well-implemented HACCP plan assures customers, consumers, the public, and regulatory bodies that food safety is top of mind for food processors like you. HACCP programs promote public health and reduce the likelihood of customer dissatisfaction, product variation, recall, as well as potential food safety hazards at any point in the supply chain.
HACCP Principles
HACCP principles apply to all steps in food production, including everything from raw material production to distribution.
There are 7 basic HACCP principles:
Hazard Analysis

Critical Control Points

Establishing Critical Limits

Monitoring Procedures

Corrective Actions

Record-Keeping Systems

Verification
The Zosi blog covers more details about each of the seven HACCP principles listed above.
Benefits of HACCP
Now that you have a better understanding of what HACCP is, let's dissect the benefits that HACCP (and a thorough HACCP system) provides your business.
To begin, HACCP-based procedures are a cost-effective system to control and monitor food safety management across the supply chain – that's everything from ingredient handling through production, storage, distribution and sale. Further benefits of HACCP include: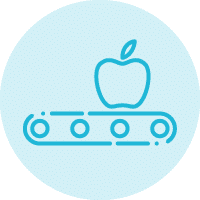 Product Quality Increase
Implementing a HACCP system works to identify, prevent, and control any potential microbiological, chemical, and/or physical food safety hazards or contaminants in your facility. By doing so, you give consumers peace of mind in knowing their food is safe to eat. This practice ultimately results in increased brand trust.
Profit Increase
Increased brand trust means consumers will continue to purchase your product, improving yourbottom line.
Reduced Product Loss
The use of Standard Operating Procedures (SOPs) before during and after production ensure that every step in the manufacturing process is executed correctly with few (if any mistakes). SOPs are an example of a Prerequisite Program (PRP). PRPs are the bedrock of any HACCP system. Check out examples of Prerequisite Programs for HACCP.
Improved Inventory Control
Monitoring and verification procedures involved in HACCP systems ensure that documentation, including inventory purchase and monitoring, must be continuously recorded. This thorough approach to documentation guarantees improved inventory control as corrections can be made in real-time, as soon as mistakes are identified.
Reduced Product Deviation
If your HACCP system is thorough and effective, your monitoring procedures and critical control points (those points at which a control can be applied to prevent a hazard), will remain in constant check. This means HACCP systems all but guarantee product consistency.
What is HACCP Certification?
HACCP certification is a voluntary process that recognizes a food processor has developed, documented, and implemented a HACCP system, including an effective HACCP Plan. Some food processors may be required by law to have implemented a certified HACCP system using Good Manufacturing Practices (GMPs). HACCP plans and certification demonstrate to your consumers a commitment to food safety. Customers worldwide know that food safety is a priority in your facility, increasing brand trust, loyalty, and business overall. Such certification also results in better use of the resources at your disposal and a reduction of the cost of food safety problems.
Do I need to be certified?
HACCP compliance requirements differ around the world and depending on your specific industry. For example, the Food and Drug Administration (FDA) mandates juice and seafood producers employ a HACCP plan. At the same time, dairy producers are not held to the same requirement.
In addition, The Safe Quality Food Institute's (SQFI) new code further bonds SQF certification with HACCP compliance. Edition 9 of the SQF Code features a two-fold requirement. The first being that every site has a designated SQF Practitioner, and now a Substitute SQF Practitioner also who has successfully completed a HACCP-based training course. Learn more about meeting HACCP requirements for SQF .
Your regulatory body may require a HACCP plan but no certification.
The HACCP Certification Process
Achieving HACCP certification is a multi-step process that takes time, management commitment, human resources, and planning.
The following constitutes an overview of the path to certification.
Know HACCP Requirements and Principles

Develop a HACCP Plan

Complete a GAP Analysis

Choose Your Certification Body

Undergo a HACCP Audit
How do I become HACCP certified?
While your HACCP certification will be granted by an external authority, making sure your team members receive the right HACCP training is a primary initial step to certification.
How does HACCP training benefit me?
Learn how to tie HACCP and GMPs in with existing programs in your facility for positive audit results and increased consumer confidence. With online HACCP training, you work toward HACCP compliance goals and learn how to properly develop a HACCP program. HACCP training is beneficial to:
food safety team members

quality control personnel

quality assurance personnel

food safety managers

team leaders

line supervisors
HACCP training also lends to individual professional development, increasing desirability by potential employers in the industry.
How long is HACCP certification valid?
Your chosen third-party certification body designates the time frame for which your HACCP certification is valid. On average, certification lasts for 12 months. Keep in mind your HACCP certificate can be revoked at any time should your site fail to continually meet regulatory requirements.
HACCP Insider Insights
HACCP-related content from the Zosi blog
HACCP vs HARPC: What's the Difference?
Prerequisite Program Examples for Your HACCP System
Your Guide to the Seven HACCP Principles
How to Meet Regulatory Requirements for HACCP